Love Is In The Air: Vault's 2014 Office Romance Survey
Just in time for Valentine's Day, the results of Vault's annual peek under the surface of office life (and behind storage room doors) are in. Click through the slides to find out what your colleagues are getting up to after--and sometimes during--work hours.
...and so do more than half of your colleagues--hardly surprising given how much time we spend at work.
More than one third of survey respondents weren't sure if their company even had a policy regarding workplace relationships.
While instances of office romance are fairly evenly split between men and women, men are much more likely to have had a random hookup with a colleague. Women are more likely to have had both casual and long-term relationships as a result of a workplace relationship.
Most relationships in the workplace are between colleagues at the same level. When they're not, however, women tend to date supervisors, while men date subordinates.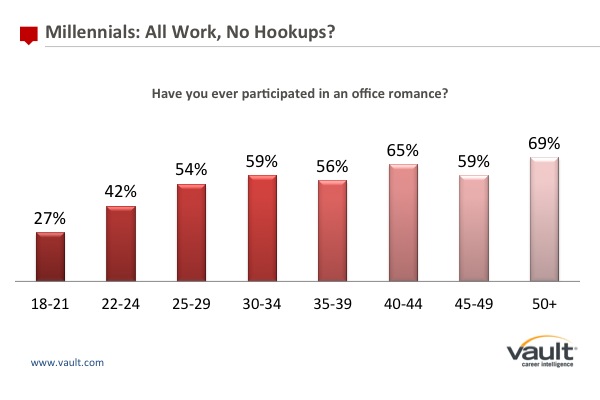 Or have they just had more life experiences? Whatever the answer, the facts are plain: younger workers are less likely to have had a relationship with a colleague.
More than two-thirds of respondents report having an office spouse--a close, non-romantic relationship with a colleague, typically of the opposite gender.
Around 40 percent of respondents have specifically avoided a workplace romance, with reasons running the gamut from fear for career prospects to needing a sense of separation from the workplace at the end of the day.
Those who are looking for love (or, perhaps, a series of hookups) could do worse than seek employment in these fields.
Looking for a quiet life. where you can focus on your job? Try being a lawyer. For an energy consulting firm.
Remember, we make no judgements--we just bring you the data you need to know, so you can stock up on antibacterial wipes.
While your under-the-radar relationship with the new accounts clerk might be the only thing you can think about, chances are that, even if your colleagues know, they just don't care.
Of course, if your colleagues are "romancing" their way to the top, that's another story.
There's a definite sliding scale to the types of relationships that are seen as acceptable in the workplace. Bottom of the list: co-workers who work on the same projects, and relationships between employees at different levels.
Married people of the world: it's not the attractive person in the apartment down the hall you have to worry about. It's your spouse's colleagues.
If given the chance, most people who have had one office romance will go back for more.