At a Glance
Uppers
"My colleagues are incredibly smart, funny, and down to earth."
"Culture of public service."
"The mentorship and quality of work."
Downers
"The billable-hour requirement."
"The prospects for partnership are slim, and it is unclear what the process is for making partner."
"Working here is extremely demanding."
About WilmerHale
With 1,000 lawyers across the U.S., Asia, and Europe, WilmerHale is a litigation powerhouse, known especially for its work in IP, securities, and appellate litigation, as well as its life sciences and technology experience. The firm counsels in a range of industries, including aviation; big data; Brexit; education; energy, environment, and natural resources; financial services; health care; insurance; media and entertainment; national security; professional services; and technology.
Beantown Meets the Beltway
WilmerHale was formed in 2004 when Hale and Dorr LLP and Wilmer Cutler Pickering LLP joined forces. Legacy firm Hale & Dorr dated back to 1918. Among other things, the firm was known for its work in government matters. Firm lawyer Joseph Welch represented the U.S. Army in the legendary U.S. Army-McCarthy congressional proceedings. And Jim St. Clair left the firm in the '70s to become Special Counsel to Richard Nixon during Watergate.
Wilmer Cutler & Pickering was launched in the '60s in DC. Like Hale & Dorr, the firm had experience working in government—its attorneys were counsel to Jimmy Carter, George H.W. Bush, and George W. Bush, to drop a few names. And the firm laid the groundwork for a future commitment to pro bono as the first signatory to the ABA'S Law Firm Pro Bono Challenge.
Doing It All
WilmerHale is a full-service shop, handling everything from antitrust and bank regulation to bankruptcy and cybersecurity to M&A and IP to tax and white collar—and much more.
The foundation of WilmerHale's success is its IP practice. The firm combines technical expertise—more than 120 of its lawyers hold scientific and technical degrees—with BigLaw firepower. Annually, the firm secures hundreds of patents and trademark registrations worldwide. One factor behind the department's excellence has been the firm's sophisticated multi-jurisdictional representation of an all-star roster of high-profile IP clients, including Apple, Abbott Laboratories, Intel, Broadcom Corp., Boeing, Boston Scientific, Millennium Pharmaceuticals, Monsanto, Novartis, Oracle, Pfizer, and Wyeth.
The firm is also well known for its Appellate & Supreme Court Litigation practice. WilmerHale attorneys have argued more than 140 cases before SCOTUS and are regulars before state and federal appellate courts. The firm has been named to The National Law Journal's Appellate Hot List every year for over a decade.
In the life sciences area, the firm brings a multi-disciplinary approach. Clients include biotechnology, pharmaceutical, diagnostic, and medical device companies. The group works across such areas as corporate finance, licensing, M&A, patent issues and IP counseling, regulatory matters, and more.
Harvard Do-Gooders
In 1992, Hale & Dorr lawyers donated money to establish the WilmerHale Legal Services Center of Harvard Law School, which is a clinical teaching facility through which Harvard Law students help people in the community in such areas as estate planning, domestic violence, tax, housing, predatory lending, and veterans law. Firm attorneys also work with the clinic, providing hundreds of hours of pro bono service.
News & Awards
NOTABLE CASES
Representing the US Army in the Army-McCarthy hearings.
Arguing NAACP v. Clairborne Hardware Co., helping the NAACP avoid a financial penalty that could have forced it to close.
Representing the board committees in the high-profile internal investigations of Enron and WorldCom.
Achieving a reversal in a Tulia, Texas drug sting case in which multiple defendants, more than 10 percent of Tulia's African-American population, were wrongfully convicted
AWARDS & ACCOLADES
Top 10 in 2020 on The American Lawyer A-List, with 17 total years on the list
Pro Bono Hot List, 2020—The National Law Journal's 
Received Mansfield 2.0 Plus Status in 2019, Diversity Lab's highest designation
Inaugural signatory of the American Bar Association Well-Being Pledge for Legal Employers
Best Law Firm for Women, 2020—Working Mother
Why Work Here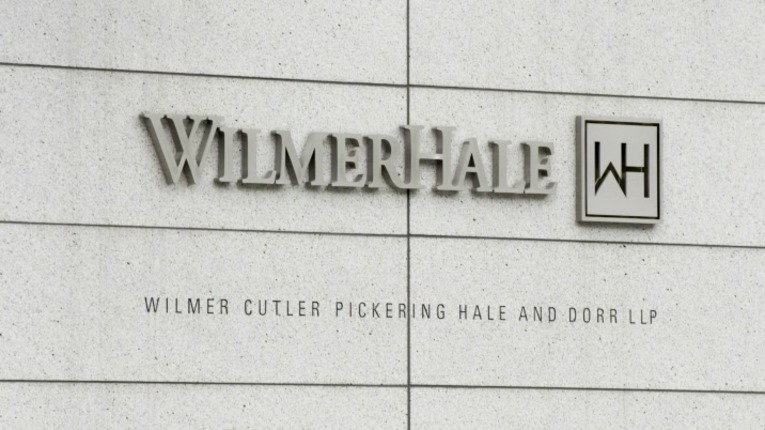 WilmerHale
Phone: (617) 526-6000 • (202) 663-6000

Firm Stats
Co-Managing Partners: Susan W. Murley and Robert T. Novick
Hiring Partners: John Hobgood & Sarah Petty (Boston); Ben Fernandez (Denver); Chris Casamassima (Los Angeles); Alan Schoenfeld & Erin Sloane (New York); Michael Mugmon (Palo Alto); Brenda Lee & Ben Neaderland (Washington, DC)
Total No. Attorneys 2020:
1K - 1.5K

Base Salary
All offices
1st year: $190,000
2nd year: $200,000
3rd year: $220,000
4th year: $255,000
5th year: $280,000
6th year: $305,000
Summer Associate: $3,700/week

Employment Contact
Karen Rameika
Firmwide Legal Recruitment Manager
(617) 526-5565
Recruiting contacts for all offices can be found on the firm website.

No. of International Offices: 5
Major Office Locations
Boston, MA
Dayton, OH
Denver, CO
Los Angeles, CA
New York, NY
Palo Alto, CA
San Francisco, CA
Washington, DC | Beijing
Berlin
Brussels
Frankfurt
London

Major Departments
Intellectual Property
Litigation/Controversy
Regulatory and Government Affairs
Securities
Transactional
*See firm website for complete list of practice areas and industries.