At a Glance
Uppers
"Talented, yet down-to-earth lawyers."
"Working on front-page matters."
"The work/life balance is great for a firm of this size."
Downers
"Stress."
"Poor partnership prospects."
"Demands on time."
About WilmerHale
With 1,000 lawyers across the U.S., Asia, and Europe, WilmerHale is a litigation powerhouse, known especially for its work in IP, securities, and appellate litigation, as well as its life sciences and technology experience. The firm counsels in a range of industries, including aviation; big data, Brexit; education; energy, environment, and natural resources; financial services; health care; insurance; media and entertainment; national security; professional services; and technology.
Beantown Meets the Beltway
WilmerHale was formed in 2004 when Hale and Dorr LLP and Wilmer Cutler Pickering LLP joined forces. Legacy firm Hale & Dorr dated back to 1918. Among other things, the firm was known for its work in government matters. Firm lawyer Joseph Welch represented the U.S. Army in the legendary U.S. Army-McCarthy congressional proceedings. And Jim St. Clair left the firm in the '70s to become Special Counsel to Richard Nixon during Water Gate.
Wilmer Cutler & Pickering was launched in the '60s in DC. Like Hale & Dorr, the firm had experience working in government—its attorneys were counsel to Jimmy Carter, George H.W. Bush, and George W. Bush, to drop a few names. And the firm laid the groundwork for a future commitment to pro bono as the first signatory to the ABA'S Law Firm Pro Bono Challenge.
Doing It All
WilmerHale is a full-service shop, handling everything from antitrust and bank regulation to bankruptcy and cybersecurity to M&A and IP to tax and white collar—and many more in between.
The foundation of WilmerHale's success is its IP practice. The firm combines technical expertise—more than 120 of its lawyers hold scientific and technical degrees—with BigLaw firepower. Annually, the firm secures hundreds of patents and trademark registrations worldwide. One factor behind the department's excellence has been the firm's sophisticated multi-jurisdictional representation of an all-star roster of high-profile IP clients, including Apple, Abbott Laboratories, Intel, Broadcom Corp., Boeing, Boston Scientific, Millennium Pharmaceuticals, Monsanto, Novartis, Oracle, Pfizer, and Wyeth.
The firm is also well known for its Appellate & Supreme Court Litigation practice. WilmerHale attorneys have argued more than 140 cases before SCOTUS and are regulars before state and federal appellate courts. The firm has been named to The National Law Journal's Appellate Hot list every year for over a decade.
In the life sciences area, the firm brings a multi-disciplinary approach. Clients include biotechnology, pharmaceutical, diagnostic, and medical device companies. The group works across such areas as corporate finance, licensing, M&A, patent issues and IP counseling, regulatory matters, and more.
Harvard Do-Gooders
In 1992, Hale & Dorr lawyers donated money to establish the WilmerHale Legal Services Center of Harvard Law School, which is a clinical teaching facility through which Harvard law students help people in the community in such areas as estate planning, domestic violence, tax, housing, predatory lending, and veterans law. Firm attorneys also work with the clinic, providing hundreds of hours of pro bono service.
News & Awards
RECENT NEWS
2018
In 2018, WilmerHale concluded its representation of Ms. C, a human trafficking victim from Cambodia. She was trafficked to California in 2013 by seven individuals who forced her to work in their homes and businesses without pay. For two years, she endured 17-hour workdays and was held at a gas station, where she had to sleep in a stock room. Further isolated by the fact that she spoke no English, she was subjected to verbal and physical abuse and threats to her family. She spent weeks collecting enough English words to compose a plea for help, which she passed to a police officer in the gas station where she was confined, precipitating her rescue. Ms. C's suit alleged violations of the Trafficking Victims Protection Act, Fair Labor Standards Act, California Labor Code, and numerous torts. After the discovery phase, the parties entered mediation and settled, with Ms. C able to begin a new life in the United States.
December 2018
In December 2018, WilmerHale's International Arbitration and Litigation practices, acting alongside the Hungarian Civil Liberties Union and the Media Legal Defence Initiative, obtained a significant judgment from the European Court of Human Rights (ECtHR) in Magyar Jeti Zrt v. Hungary. In a unanimous judgment, the ECtHR found a violation of the applicant's right to freedom of expression. The ECtHR found that the Hungarian courts had failed to distinguish between content and communicating the existence of content—i.e., hyperlinking.
November 2018
In a stunning victory in federal district court in New York City, WilmerHale obtained an acquittal for client Rohan Ramchandani, a former London-based foreign exchange trader who faced a sentence of up to 10 years in prison had he been convicted on criminal antitrust charges.
January 2018
Helen Grace James is an Air Force veteran who was given an "undesirable" discharge from the military in 1955 for being lesbian. In 2016, Ms. James applied to the Air Force Board for Correction of Military Records (AFBCMR) to upgrade her discharge status to "Honorable." The statutory deadline for the AFBCMR to reach a final decision on her application expired in October 2017. WilmerHale joined her legal team, submitting a brief to the AFBCMR and filing a complaint in the U.S. District Court for the Eastern District of California. On January 17, 2018, the AFBCMR granted her application and upgraded her discharge status to "honorable." After nearly 60 years, Ms. James finally received the recognition she deserves, and she will be eligible to receive military honors at her funeral.
AWARDS & ACCOLADES
#2 in 2018 on The American Lawyer A-List
Recognized on The National Law Journal's 2019 Pro Bono Hot List
Awarded the Gold Standard Certification Award by Women in Law Empowerment Forum, 2019
Law360 recognized Wilmerhale as Technology Practice Group of the Year, 2019
Why Work Here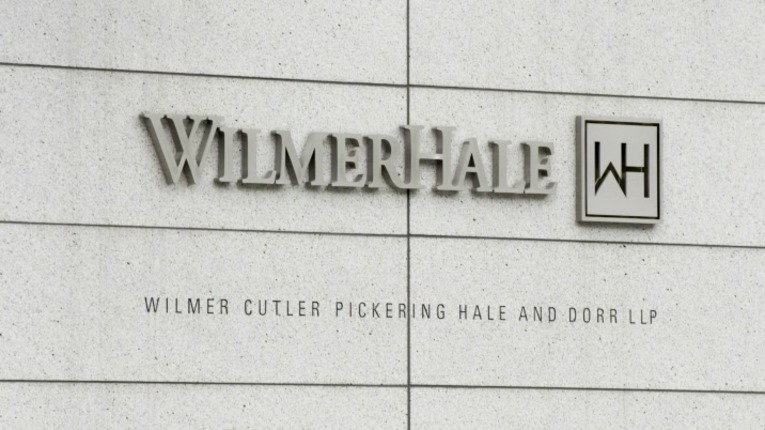 WilmerHale
1875 Pennsylvania Avenue, NW
Washington, DC 20006
Phone: (202) 663-6000

Firm Stats
Co-Managing Partners: Susan W. Murley and Robert T. Novick
Hiring Partners: John Hobgood & Sarah Petty (Boston); Ben Fernandez (Denver); Chris Casamassima (Los Angeles); Alan Schoenfeld & Erin Sloane (New York); Michael Mugmon (Palo Alto); Jonathan Paikin (Washington, DC)
Total No. Attorneys 2019:
1K - 1.5K

Base Salary
All offices
1st year: $190,000
2nd year: $200,000
3rd year: $220,000
4th year: $255,000
5th year: $280,000
6th year: $305,000
Summer associate: $3,700/week

Summer Program
Summer Associate Offers:
77 out of 77 (2Ls) (2019)

No. of Summer Associates:
79 total (77 2Ls; 2 1Ls) (2019)

Employment Contact
Boston
Karen Rameika
Firmwide Legal Recruitment Manager
(617) 526-5565
Washington, DC
Melissa Grossman
Legal Recruitment Manager
(202) 247-3259
See firm website for more information.

Major Office Locations
Boston, MA
Denver, CO
Los Angeles, CA
New York, NY
Palo Alto, CA
San Francisco, CA
Washington, DC
Beijing
Berlin
Brussels
Frankfurt
London

Major Departments
Intellectual Property
Litigation/Controversy
Regulatory and Government Affairs
Securities
Transactional
*See firm website for complete list of practice areas and industries.