At a Glance
Uppers
"Interesting work"
"The people are truly special"
"Open and casual culture"
Downers
"Very demanding hours"
"Compensation is delayed compared to peer firms"
"Small partnership classes"
About Paul Hastings LLP
Over the last few decades, Paul Hastings has grown from a mid-market U.S. firm to an international outfit with strengths in employment, tax, and business law and big name clients in more than 80 countries. With offices in Beijing, Hong Kong, Seoul, Shanghai, and Tokyo, the firm has become especially strong in Asian market dealings.
A Legacy of Leadership
In 1951, Harvard law grads Bob Hastings, Lee Paul, and Leonard Janofsky pooled their ambition to form a new firm in Los Angeles. They divided the workload three ways: Janofsky handled employment law matters, Paul dealt with litigation, and Hastings managed business law. In 1962, Charles Walker joined the trio as a partner, adding his name to the masthead and establishing a tax practice. Walker took a brief sojourn from the firm in the 1970s to accept a position in the Ford administration as Assistant Secretary of the Treasury for Tax Policy but soon returned to his tax work at the firm.
Only One Way to Grow
In 1974 the firm opened a second office in Orange County; locations in Atlanta, Washington DC, New York, and Connecticut followed. During the 1980s, Paul Hastings ventured into the world of venture capital transactions, working from offices in Los Angeles, Costa Mesa, and Santa Monica. The firm grew over the next few decades organically, rather than merging or acquiring other firms.
Also in the 1970s, the firm expanded into cross-border work, helping Japanese clients set up U.S. operations. The firm made its first official overseas debut in Tokyo in 1988—thanks to the efforts of partner Kaoruhiko Suzuki—and then landed in London in 1997. The firm also looked to the east coast, bulking up its New York office and developing strengths in the fields of software litigation, intellectual property, and entertainment.
For All Your Employment Needs
In the 1990s, Paul Hastings reorganized its practice around five core specialties: real estate, business, employment, litigation, and tax. Of these, employment was considered the firm's greatest strength. Paul Hastings' expertise in this field dated back to the firm's beginnings and the reputation developed by founding partner Leonard Janofsky, who was the first employment lawyer to serve as president of the American Bar Association.
In the 2000s, Paul Hastings merged and reorganized to continue its growth overseas. It combined with Chinese firm Koo and Partners in 2002, gaining offices in Hong Kong and Beijing, and then opened another location in Shanghai the following year. After building a presence in Paris, Brussels, and Milan, the firm set its sights on Frankfurt through a merger with local firm Smeets Haas Wolff. In the 2010s, Paul Hastings continued to expand to meet clients demands, opening new offices in Houston, Seoul, and—most recently—a Century City office in 2018 to help clients in the entertainment and media sector.
Adapting to the Times
Over the years, the firm has represented Hitachi, JP Morgan, Barclays Capital, Mitsubishi, Wells Fargo Capital Finance, Delta Power, Morgan Stanley, and Six Flags. The firm's client list spans more than a dozen industries, including aircraft finance and leasing, energy, development and construction, health care, franchise and distribution, government affairs, hotels and resorts, investment management, real estate, life sciences, IT and eCommerce, OSHA, sports, telecommunications and media, and securities finance and capital markets. To keep up with client demands during the global financial crisis, Paul Hastings also established a subprime mortgage and credit crisis practice area, focusing on bankruptcy and restructuring, regulatory matters, litigation and investigations, and government advisory services.
IN THE NEWS
May 2018
The firm advised Saban Properties on the proposed US$522M sale of the iconic Power Rangers brand as well as other entertainment assets to Hasbro, Inc. In addition to Saban's Power Rangers, the transaction also includes entertainment properties including My Pet Monster, Popples, Julius Jr., Luna Petunia, and Treehouse Detectives.
March 2018
Paul Hastings represented Goldman Sachs and Citigroup as arrangers in the financing for the recommended public-to-private acquisition by Advent International of Laird PLC for approximately £1B. AI Ladder Limited (Bidco), a wholly-owned indirect subsidiary of funds managed by Advent International Corporation, and U.K. electronics and technology business Laird reached agreement on the terms of a recommended cash acquisition of the entire issued and to be issued ordinary share capital of Laird by Bidco.
March 2018
Paul Hastings represented Credit Suisse as global coordinator and Credit Suisse and Citigroup as initial purchasers in the Mexico City Airport FIBRA E's US$1.64B initial public offering on the Mexican Stock Exchange and internationally in accordance with Rule 144A and Regulation S. This offering is the largest IPO from Mexico since 2013.
February 2018
The firm advised ICBC International on its investment into JD Logistics' US$2.5B Series A financing, which marked the largest single financing in China's logistics industry so far. JD Logistics is the warehousing and shipping subsidiary of China's second-largest ecommerce player JD.com.
February 2018
The firm advised U.K.-based EG Group on real estate matters, including real estate due diligence, related to the US$2.15B acquisition of Kroger's convenience store holdings. The holdings are comprised of a mix of owned and leased properties including 762 stores in the United States.
January 2018
Paul Hastings represented the underwriters in the US$1B GDR offering by Kakao Corp., the operator of leading mobile and online platforms in Korea. This marks the largest overseas-listed equity offering by a Korean issuer in a decade. The GDRs will be listed on the Singapore Exchange, while the underlying common shares will be listed on the Korea Exchange.
Why Work Here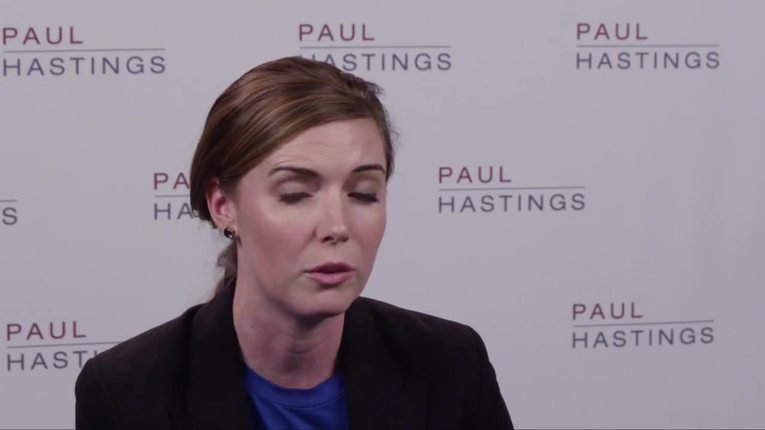 Paul Hastings LLP
200 Park Avenue
New York, NY 10166
Phone: (212) 318-6000

Stats
Employer Type: Private
Chair of Firm: Seth S. Zachary
Managing Partners: Greg M. Nitzkowski & Stephen H. Harris

Total No. Attorneys 2018: 983

Base Salary
All domestic offices
1st year: $190,000
2nd year: $200,000
3rd year: $220,000
4th year: $255,000
5th year: $280,000
6th year: $305,000
7th year: $325,000
8th year: $340,000
Summer associate: $3,700/week

Summer Associate Offers
75 out of 75 (2Ls) (2018)

Major Office Locations
Atlanta, GA
Century City, CA
Chicago, IL
Houston, TX
Los Angeles, CA
New York, NY
Orange County, CA
Palo Alto, CA
San Diego, CA
San Francisco, CA
Washington, DC
Brussels
Frankfurt
London
Paris
Milan
Beijing
Hong Kong
São Paulo
Seoul
Shanghai
Tokyo

Major Departments & Practices
Banking and Finance
Bankruptcy and Restructuring
Capital Markets
Corporate
Intellectual Property
Investment Management
Labor and Employment
Litigation and Dispute Resolution
Mergers and Acquisitions
Project Finance
Real Estate
Regulatory Compliance
Securities Litigation
Tax Advisory Services