A majority (57%) of those surveyed have participated in some kind of office romance. 21% of these office romances were random hookups, 16% led to long-term relationships, and 14% led to ongoing but casual relationships.
Our respondents say: "I never really cared what anyone else thought, as long as my boss didn't have a problem with it. Why would I leave because of a few jealous people?"
10% of those surveyed said they met their spouse/partner at work.

Our respondents say:  "At the time my now wife was a summer intern, work was slow and boring so I would message back and forth with her.  What started off as a non-serious summer romance turned into a strong marriage."
Men are more likely than women to have had an office romance (59% of men vs. 54% of women). Male romances are also more likely to have been random hookups (25% for men vs. 16% for women).
Our respondents say:  "One guy fell in love with me and I didn't want a long-term relationship so he ended up leaving the company."
41% of respondents (men and women) say they have deliberately avoided a potential workplace romance.
Our respondents say: "Don't dip your pen in company ink."
Two-thirds (66%) of those who've had office romances said they'd be willing to engage in another one.
Our respondents say: "I can see how it could get hairy if things go sideways, but it worked out extremely well for me. As long as boundaries are set and the two in the relationship are professional, I don't see why not."
20% of respondents admitted to having had an affair, while 47% of those surveyed say they know co-workers who've had affairs. Of those who had been personally involved in an office affair, 24% say it put an end to their existing relationship. And more men reported having affairs than women (25% of men vs. 19% of women).
Our respondents say:  "Another co-worker who had feelings for me found out I was romancing someone else and was very vocal about what I was doing."
The office spouse is alive and well: 30% of respondents said they have a platonic office spouse. It's slightly more common in younger employees (33% for millennials, 31% for Gen Xers, and 23% in Boomers/Over-50s).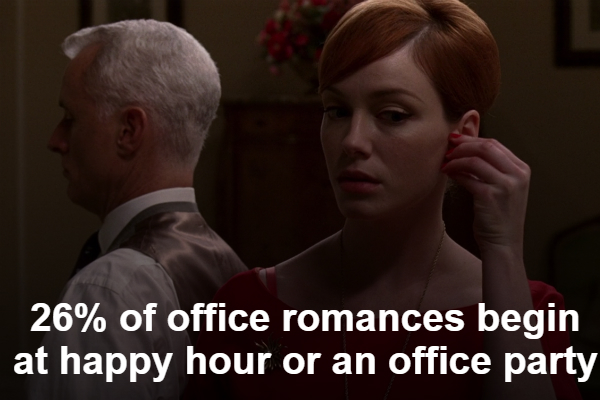 The most common way for office romances to begin is working in the same department (36%) or in nearby offices/cubicles (28%). Next are happy hours/office parties (26%) and working on the same project (21%). So, it appears that what begins as attraction in the office due to proximity gets acted on at social events.
Our respondents say: "Office parties and happy hours with lots of alcohol don't make for wise decisions sometimes."
34% of respondents think social media platforms have made it easier to have an office romance. However, just 22% of respondents report using social media to send flirtatious or romantic messages to a co-worker.

Our respondents say: "IG messaging and Snapchat make it very easy to flirt."
The preferred method of communication among those who've had workplace romances is in person (47%), followed by texting (28%), online chatting (9%), phone calls (7%), email (4%), and social media (1%)
More than 60% of respondents have used a dating app, but only about 10% have been matched with a co-worker. Of those matched, one in four (25%) pursued the relationship.

Our respondents say: "I matched with a coworker on Tinder. I was considering pursuing a relationship with this woman anyway, but matching with her definitely put me over the edge and gave me the confidence to proceed."
Most respondents believe there are certain boundaries romance shouldn't cross. Nearly one-third (32%) say it's unacceptable for co-workers at different levels, 27% say no to colleagues who work in the same department or on projects together, 21% say romance with a client or vendor is a no-no, and 5% say romance in the office is unacceptable no matter what.

Our respondents say: "I dated a manager when I worked retail in college, and my co-workers hated me because I got to work weekdays, getting weekends and nights off. I also dated a subordinate, and had to fire him while we were dating at the orders of my boss. Ouch."
On the other hand, 26% of all of those surveyed say love and let love—all office romances are OK.

<> Embed Vault Blogs Slideshow
The results of Vault's 2017 Office Romance Survey are here! This year, with 57% of  respondents reporting that they've had some kind of personal relationship with a colleague—from a quick fling to an ongoing long-term relationship—we looked at how those relationships get started, and whether technology has blurred the lines between the personal and the professional.
For example, according to this year's data, 34% of business professionals believe that social media platforms and productivity tools such as Facebook and Slack have made it easier for colleagues to pursue romantic interest in one another. And 46% believe that those same tools have made it easier to hide such relationships.
However, just 22% percent of survey respondents confess to having used those same tools to send romantic or flirtatious messages to colleagues, suggesting that there is a degree of caution about leaving a digital trail for employers to find.
For more results from the survey, be sure to check out the slides above.
Join Gold to Unlock Company Reviews