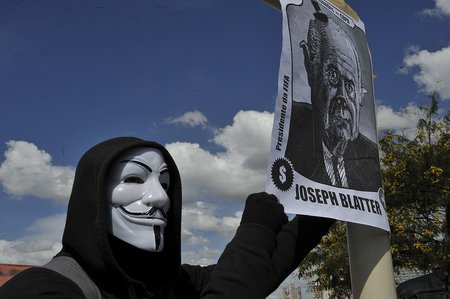 Let me start this post with an admission: as someone who's fanatical about the beautiful game, I've been doing very little except following the FIFA scandal since it started unfolding last week. So there's really nothing else for me to do at this juncture but find some kind of careers angle to give me an excuse to write about it!
Looking at the situation from a careers rather than a sporting integrity lens, there are all kinds of angles that I could take. For example, I could look at the bribery allegations as a study in what not to do if you're thinking of getting into the corporate corruption game (Lesson 1: Don't move funds through US banks).
Alternatively, I could celebrate the unconventional career paths of so many of FIFA's top brass—there are leaders in that organization who appear to have made their way to the top without any of the requisite training in issues related to ethics, diversity or even basic management that are expected even in organizations with nowhere near the same ability to generate revenues.
Part of me really wants to compare the facilities at Geneva's now-infamous Baur au Lac hotel (where the restaurant boasts a Michelin star and the cheapest rooms start at around $600 per night) to the standard "edge-of-the-business-district-within-walking-distance-of-Applebees" accommodations reported by many of the consultants on our annual survey.
But when it comes down to it, the biggest career issue that I've seen emerging from the morass so far is the question of how and when you should walk away from an employer, in the event that it turns out to be (allegedly) corrupt to the core. In other words: at what point does the harm done to your resume start to outweigh the benefits of staying at an organization—even one with as rich of a gravy train as FIFA's?
So far, we've had a couple of definitive answers to that question: 2 senior members of the English Football Association (FA), have resigned from their roles within FIFA. Anti-discrimination taskforce member Heather Rabbatts stepped down noting that "It is clear from the re-election of president Blatter that the challenges facing Fifa and the ongoing damage to the reputation of football's world governing body are bound to continue to overshadow and undermine the credibility of any work in the anti-racism arena and beyond."
More damaging yet, English FA vice-chairman David Gill resigned from his role on FIFA's executive committee following Sepp Blatter's re-election as FIFA president. Gill's reasoning, while similar in tone to Rabbatts, went the extra mile of specifically mentioning the need to protect his own reputation: "My professional reputation is critical to me and I simply do not see how there will be change for the good of world football while Mr Blatter remains in post."
So it's clear that, at least for top brass, there's a point where being attached to a compromised organization is seen as a threat to their professional credibility. To what extent that principle applies as the scandal unfolds further will be fascinating to watch.
Read More:
How to Win: Career Lessons from Soccer's Greatest Manager
Business School Essays: Ethical Dilemmas
Evaluating Your Career Experiences
(Image Credit: Agência Brasil ([1]) [CC BY 3.0 br (http://creativecommons.org/licenses/by/3.0/br/deed.en)], via Wikimedia Commons)
Join Gold to Unlock Company Reviews