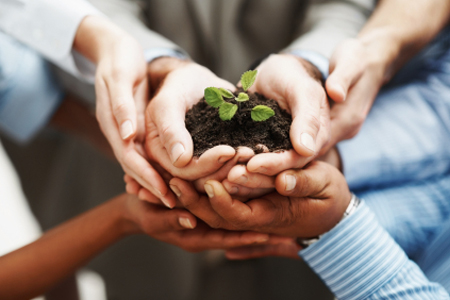 I recently received a call from a salesman I'd met at a local auto dealership. He said he was simply reaching out to see how I was doing and to ask if he could be of any assistance to me. Ultimately, his goal was to maintain a connection with me in hopes that I might one day become his next customer—but he missed the mark. If he really wanted to stay connected, calling me nine months later out of the blue just to say "Hi" was not the best approach. I politely declined his offer of help and hung up the phone.
This got me thinking about how we handle the relationships we spend so much time building. In particular, I thought about a young woman I've worked with in a coaching capacity and a question she posed about getting the most out of her internship.
While internships provide a broad scale of experiences and value, some of the greatest outcomes are the connections and contacts you make. Once you've made connections, especially during an internship, an important step is to maintain and continue to grow the seeds you've planted. If you don't want to be known as the intern who awkwardly reaches out only when they need something, here are some tips for maintaining lasting and meaningful contacts.
It's All About Habitude
Keeping and growing connections should be one of your priorities—especially if you're interning and trying to get a foot in the door at a specific organization. Rather than randomly kicking off an email, text or call, try to set aside a bit of time each week to devote to your relationships. If you do this, eventually you won't even have to set aside time—it will become part of you normal routine (and that's a good thing). When the time comes that you do reach out specifically for assistance, the person on the other end won't feel burdened, but rather your request will be a natural extension of your connection.
Little Things Add Up
You know who they are: The people who never fail to reach out to you on your birthday. Yes, your mother might be one of them, but again, we're talking about professional contacts here. With today's technology and social media, keeping tabs on little things like birthdays and milestones is literally a click or two away. If you're not a detail-oriented person, or it takes a bit to jumpstart your memory, consider jotting down important facts about your contacts—what they are passionate about, hobbies, vacations and the like. Don't go overboard—there's a line of creepiness that you don't want to cross—however conversations that include these tidbits about their lives really do show you care.
The Give and the Take
Business connections should not be perceived as a one-way street where you receive all the benefits. Try to add value to the relationship. If you've paid attention to the preceding paragraph, you'll know who your contacts are and what they're about. See a great article directly relating to them? Pass it on! If they've reached a major milestone, won an award or landed the next big deal, take time to congratulate them. I'm not talking about clicking on the "upward thumb," but actually reaching out either by phone or email to give them the recognition.
Be Grateful
Your parents preached this from the time you could wobble across the floor, and your teachers likely followed up with a heavy dose in grammar school. When someone does something for you, say thank you. If a connection clues you in on an upcoming opportunity, puts in a good word with their team or manager, or even provides some sage words of advice, remember to express gratefulness for their contribution to your growth. It's as easy as uttering a heartfelt "thank you."
Building and maintaining relationships and connections is a crucial part of any professional's growth and career plan. Between new opportunities, unique vantage points and a general increase in skills and knowledge, the people that we meet and connect with help provide the fuel. If you've taken the plunge into the world of interning, you're definitely aware of the benefits internships provide, but don't end things when the work is over. Instead, use these tips to help grow and foster your professional network.
Michelle Kruse is the Recruitment Editor and Content Manager at ResumeEdge, where she manages a team of 40 professional resume writers to make sure her clients achieve career success. She has more than 10 years of hiring and recruiting experience for companies such as Novartis and IBM, in addition to a background in coaching and a master's in leadership development. When she's not helping job seekers land their dream job, Michelle enjoys spending time with her three little girls, traveling the globe, and going to concerts.
Join Gold to Unlock Company Reviews